Department News
2013
Annual Homewood Postdoctoral Poster Competition
Dr. Shahriyar Keshavarz, a Postdoctoral Researcher working with Prof. Somnath Ghosh, has won the first place at the 1st Annual Homewood Postdoctoral Poster Competition with his poster entitled "Multi-Scale Crystal Plasticity Modeling of APB Shearing & Micro Twinning in Nickel based Superalloys". This competition was hosted by the Homewood Postdoctoral Asslciation on September 20, 2013, during National Postdoc Appreciation Week in recognition of postdocs and their many accomplishments.
Welcome! Prof. Michael Shields!
Civil Engineering welcomes our new member, Assistant Professors Michael D. Shields. Prof. Shields specializes in stochastic simulation and uncertainty quantification methods for computational mechanics problems. His interest lies in solid and structural mechanics problems which are large (i.e. computationally expensive) and probabilistically complex (e.g. large stochastic dimension, non-Guassian, and/or non-stationary). Dr. Shields has extensive practical experience in computational mechanics having worked as a Research Engineer at Weidlinger Associates, Inc. before joining the faculty in Civil Engineering. More information on his CV
Shu Guo won AHPCRC Poster Competition
Congratulations to our PhD student Shu Guo (advisor: Somnath Ghosh) for winning the 2013 student poster competition award with his poster entitled "A Finite Element Model for the Analysis of 3D Transient Coupled Electromagnetic Structural Dynamics Problems" at the 12th U.S. National Congress for Computational Mechanics, held in Raleigh, NC on July 22-25, 2013. The poster competition was supported by Army High Performance Computing Research Center(AHPCRC) and judged by a panel of 3-5 expert scientists from academia, government, and/or industry with $500 honorarium as well as commemorative plaques awarded to top five outstanding posters. Photos from the Award Ceremony
Isaiah Sampson awarded 2013 NIST Summer Undergraduate Research Fellowship
Congratulations go out to Civil Engineering junior, Isaiah Sampson, as a winner of the NIST Summer Undergraduate Research Fellowship (SURF) for 2013. The SURF program is open to undergraduate students majoring in science, mathematics or engineering. 180 students from universities and colleges throughout the United States were ultimately selected, but Isaiah is one of only 3 from Johns Hopkins to receive this fellowship. Between May 23 and August 9, Isaiah will work with researchers at the National Institute for Standards and Technology (NIST) in Gaithersburg, Maryland on a project dealing with structural robustness, or the ability of a structure to withstand localized damage without large scale failure. As part of the study, reinforced concrete frames are constructed with a column missing, then weight is loaded on the portion of the structure with the missing column. Isaiah then converts the data accumulated into manageable units and quantities. The intended outcome being that the model and its collected data can be used in real-world conditions. The Research Fellowship provided Isaiah with housing costs, a stipend and a small travel allowance. Once again, congratulations Isaiah!
Prof. Robert H. Dodds, Jr. delivers the 2013 Carroll Lecture
"Fracture of Steel Structures: from microns to meter", Wednesday, April 10, 2013, 1:30-2:30 PM, Hodson Hall, 3rd Floor Boardroom More Information, Invitation
Student Employment Appreciation Week
Civil Engineering celebrated Student Employment Appreciation Week. On Thursday, April 4th, 60 delectable cupcakes were delivered and enjoyed by students and faculty! We'd like to say "Thank you" to all of our student employees. You perform a much-needed and very appreciated function in Civil Engineering.
Somnath Ghosh Awarded 2013 ASCE Nathan Newmark Medal
Somnath Ghosh, the Michael G. Callas Professor of Civil Engineering and Director of the Center of Excellence on Integrated Materials Modeling, receives the Nathan M. Newmark Medal. More information
CE students volunteered at the 2013 Maryland Wood Bridge Challenge
On Saturday, March 9, Johns Hopkins civil engineering students volunteered at the Baltimore Museum of Industry for the 2013 Maryland Wood Bridge Challenge. More information
Civil Engineering Department Career Night
Civil Engineering Department Career Night was successfully held on Monday, March 4, 2013, in Levering Hall, Johns Hopkins University. More information
Digital Defense: The Search for Tougher Materials
Somnath Ghosh, the Michael G. Callas Professor of Civil Engineering, is featured on the Magazine of the Johns Hopkins Whiting School of Engineering, Winter 2013 issue. More information
Faculty Spotlight: Judy Mitrani-Reiser
Judy Mitrani-Reiser, Assistant Professor in Civil Engineering, is featured on Homewood Faculty e-Newsletter, talks about teaching excellence at Homewood campus in the Johns Hopkins University. More information
2012
JHU CE Graduate Won the SOM 2012 Structural Engineering Travel Fellowship
JHU CE Graduate, Maggie Wildnauer, won the SOM 2012 Structural Engineering Travel Fellowship. Congratulations, Maggie! More Information
The 22nd Annual International Workshop on Computational Mechanics of Materials (IWCMM22)
Dr. Somnath Ghosh and Dr. Sieghried Schmauder will co-host the 22nd annual international workshop on computational mechanics of materials (IWCMM22) in Baltimore, Maryland during September 24-26, 2012. Details
2011
JHU CE Graduate, Katie Francis, Inspects the Washington Momument
Katie Francis (B.S. 2006) and four other engineers from WJE rappel down the Washington Monument Wednesday, 28 September 2011, to inspect the damage from the Virginia earthquake.
Jiazhen Leng Won the Student Competition on Cold-Formed Steel Design
Jiazhen Leng got 1st place award in the student competition on Cold-Formed Steel Design based on research algorithms developed with Profs. Schafer and Guest.
More information about the award
Professor Ghosh Publishes New Book on Micromechanics and Multi-Scale Modeling
Title: "Micromechanical Analysis and Multi-Scale Modeling"
As multi-phase metal/alloy systems and polymer, ceramic, or metal matrix composite materials are increasingly being used in industry, the science and technology for these heterogeneous materials has advanced rapidly. By extending analytical and numerical models, engineers can analyze failure characteristics of the materials before they are integrated into the design process. Micromechanical Analysis and Multi-Scale Modeling Using the Voronoi Cell Finite Element Method addresses the key problem of multi-scale failure and deformation of materials that have complex microstructures. The book presents a comprehensive computational mechanics and materials science-based framework for multi-scale analysis.
More information about the book
2010
JHU professors Awarded NSF Grant to Advance Cold-formed Steel Earthquake Engineering
"NEES-CR: Enabling Performance-Based Seismic Design of Multi-Story Cold-Formed Steel Structures"
An academic-industry research team led by Hopkins Professors Schafer and Nakata received a $923,000 grant to study seismic performance of multi-story cold-formed steel structures.
Link to the project site
Professor Anandarajah Publishes New Book on Computational Solid Mechanics
Title: "Computational Methods in Elasticity and Plasticity: Solid and Porous Media"
The book presents the latest developments in the area of elasto-plastic finite element modeling of solids, particulates and pressure-dependent materials and structures. It covers the following topics in depth: the mathematical foundations of solid mechanics, the finite element equations for solids and porous media, the theory of plasticity (as applied to constitutive modeling).
More Information about the book
Professor Schafer Receives Huber Civil Engineering Prize
The Walter L. Huber Civil Engineering Research Prizes recognize members of the Society, in any grade, who demonstrate notable achievements in research related to Civil Engineering. Preference is given to younger members (generally under 40 years of age) of early accomplishment who can be expected to continue fruitful careers in research. More Information
Professor Mitrani-Reiser Featured In the JHU Gazette
Judith Mitrani-Reiser, an assistant research professor of civil engineering in Johns Hopkins' Whiting School of Engineering, recently spent a week in Chile looking at how well buildings and infrastructure had withstood the magnitude 8.8 earthquake that struck the nation on Feb. 27.
Read on at JHU Gazette...
2010 Wood Bridge Competition Hosted By JHU CE Department
Johns Hopkins Civil Engineering ran testing for this annual state-wide high school competition in bridge design. The team of JHU Crushers tested about 90 bridges. The state winner had an efficiency score of over 1200 with the maximum load over 100 lbs! See photos of the competition here.
Professor Nakata Recieves National Science Foundation Award
Professor Narutoshi Nakata of the Department of Civil Engineering at JHU has received the faculty Early Career Development (CAREER) award from the National Science Foundation (NSF). Nakata's proposed work, "Advanced Acceleration Control Methods and Substructure Techniques for Shake Table Tests", will be funded from 2010-2015. More Information
Professors Schafer and Igusa of JHU CE Featured in Enineering Magazine
A group of Johns Hopkins faculty led by civil engineering associate professor and department chair Ben Schafer has proposed a new center to study and remedy infrastructure systems under stress. The innovative and highly collaborative venture would fundamentally reframe how infrastructure is assessed, modeled, and inspected in the future.
Read on at Johns Hopkins Engineering (Magazine of WSE)...
2009
Professor Guest Featured In the JHU Gazette
Guest, along with several other Johns Hopkins researchers, were featured in the Whiting School of Engineering's magazine for his work as a modern prospector of patterns in multifunctional materials. Read on Here...
Professor Benjamin Schafer Appointed Chair of Johns Hopkins Civil Engineering
Effective July 1, 2009, Ben Schafer has been appointed chair of the Department of Civil Engineering.
Read More Here
Professor Graham-Brady Receives ASCE Award
Professor Lori Graham-Brady of the Department of Civil Engineering at JHU recieved the the Walter L. Huber Civil Engineering Research Prize, which recognizes members who demonstrate notable achievements in research related to Civil Engineering.
Link to the list of the Walter L. Huber Prize
Seniors and Graduate Students Recognized at Blue Hat Ceremony
On April 28th, 2009, members of the class of 2009 were recognized, along with graduate students projected to receive degrees this semester, in the Annual Blue Hat Ceremony. It has become a tradition at the Civil Engineering Department to award graduating students blue hard hats.
Click Here for Pictures
2009 Wood Bridge Competition Hosted By JHU CE Department
Johns Hopkins Civil Engineering hosted this annual high school level competition in bridge modeling, with about 70 bridges tested. The state winner had an efficiency score of 2300, with the maximum load over 120 lbs! See photos of the competition here.
2008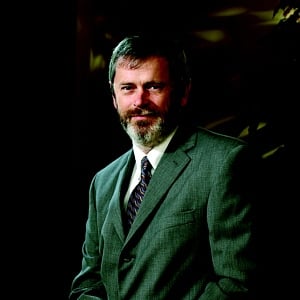 Nick Jones named the first to hold the Benjamin T. Rome Deanship
A. James Clark, a leading commercial builder, committed $10 million to endow the deanship in honor of his mentor and business colleague Benjamin T. Rome. The gift provides a permanent stream of unrestricted support that the school's deans — present and future — will be able to invest strategically in faculty, students and programs.
Read on at the JHU Gazette...

Professor Benjamin Schafer named Swirnow Family Faculty Scholar
The Swirnow Family Faculty Scholar award is given to a senior assistant professor or associate professor who exhibits exceptional achievement in their area of expertise. For Professor Benjamin Schafer, the award recognizes his work in the fields of structural stability and computational mechanics.
Professor Robert Dalrymple Featured in Wired's 2008 Smart List
Johns Hopkins Civil Engineering Professor Robert Dalrymple has been named one of the "15 People the Next President Should Listen To" at Wired Magazine. Dalrymple was selected because of his expertise on the damaging effects of hurricanes and tsunamis on infrastructure. Dalrymple offers the next president a three-point plan to prepare for an era of extreme weather.
Read the Article at Wired.com
Pictures from the Freshman Welcome Party: The department welcomed the class of 2012 with a pizza party outside of Latrobe. September 3rd, 2008. Picture Slideshow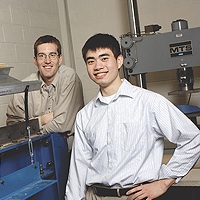 Steel Floor, Buckle no More:
Ying Guan '08, a senior majoring in civil engineering, has developed sophisticated computer predictions to help structural engineers design sturdier and more cost-effective cold-formed steel floors and walls in low-rise buildings. With support from his PURA, Guan performed tests and devised computer models that allow a building designer to test different materials and connections between thin-walled steel beams and the wood panels or drywall used to support them.
Read on at the JHU Gazette...
Professor Lori Graham-Brady was awarded the William H. Huggins Excellence in Teaching Award at the Whiting School of Engineering Convocation Awards Ceremony on May 5, 2008. The award was presented by Dean Nicholas P. Jones to recognize Dr. Brady's outstanding faculty teaching at both the undergraduate and graduate levels and her demonstrated dedication to students.

Hard Hat Ceremony: The Civil Engineering Department held their first annual Hard Hat Graduation Ceremony on April 29 to recognize the Class of 2008. Each member of the graduating class was given a personalized Hopkins hard hat as a symbol of their transformation at JHU.
Libin Tan and Aaron Lazarus were awarded doctoral degrees from the Department of Civil Engineering in the May 2008 Commencement Ceremonies. Aaron's dissertation, supervised by Prof. Michael McCormick, was entitled "Development and optimization of a shape memory alloy wave energy dissipation system for offshore applications." Libin's doctoral work was supervised by Prof. Tak Igusa and his dissertation was entitled "The classification and evolution of local features in the mechanics of heterogeneous media."Cristopher Moen defended his doctoral dissertation, entitled "Direct strength design of cold-formed steel members with perforations" in July 2008, under the supervision of Prof. Ben Schafer. Cris's degree will be awarded in the May 2009 ceremony. Masters of Science in Engineering degrees were conferred to Muthukumar Narayanaswamy and Arghavan Louhghalam, both of whom are in the Ph.D. program.
Lindsey Smith and Katherine Acton, graduate students at the Johns Hopkins Civil Engineering Department, were recently awarded the BIGSTEP fellowship which is sponsored by the NSF Division of Graduate Education, and run through the Center for Educational Outreach under the direction of Dean Marc Donohue. This grant sponsors graduate students from the Whiting School to work with students in K-12 schools in disadvantaged areas, encouraging these students to develop knowledge in the areas of mathematics, physical sciences, computers, technology and engineering.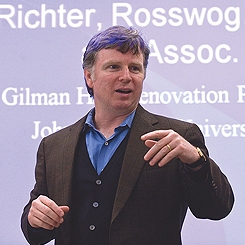 The Gilman Hall Atrium: What If?
When the massive renovation of Gilman Hall is complete, arguably its most dramatic new feature will be a three-story glass-topped central atrium where there is currently an open, unused light well.Inside the atrium, a second-floor courtyard will serve as a bridge between the Hutzler Reading Room and Memorial Hall. This new courtyard will sit atop a first-floor space for the exhibition and study of the university's archaeological collection, which will be showcased behind glass walls.Well, that might be the reality, but that is not quite how 15 senior civil engineering students saw it. They had a few bright ideas of their own about how to rework the space. The students enrolled in Design and Synthesis II, a capstone course for civil engineering majors, had the unique opportunity this spring to combine their structural engineering knowledge with a measure of creative flair to reimagine a main element of the renovation of Homewood's first academic building.
Read on at the JHU Gazette...
Dennis R. Mertz delivered the 2008 Carroll Lecture at the Engineering Society of Baltimore. Dr. Mertz is the Director of the University of Delaware's (UD) Center for Innovative Bridge Engineering (CIBrE) as well as a Professor of Civil Engineering. Dr. Mertz's lecture, entitled "The Safety of Our Nation's Bridges" discussed the recent catastrophic collapse of the Interstate 35W steel deck truss bridge in Minneapolis and the subsequent public scrutiny of the health of our nation's bridges. The FHWA mandated term "structurally deficient" was also discussed.

Professor James K. Guest and Hopkins Graduates and Undergraduates represented JHU at the 2008 Maryland Wood Bridge Competition.

Civil Engineering Students participated in the first annual Latrobe Bowl against the Mechanical Engineering students, who share the same building.
Slide Show
Dr. Judith Mitrani-Reiser was appointed in February 2008 as an Assistant Research Professor in the Department of Civil Engineering.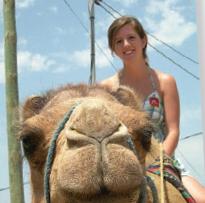 Expanding Worlds: from the Whiting School of Engineering
As a kid, Blair Johnson '08 was afraid of waves. She wasn't a strong swimmer and the thought of getting knocked over and rolled into the undertow filled her with horror. Back then, she never could have imagined herself as an undergraduate drawn to coastal engineering; in fact, she never knew such a discipline existed. Flash forward 15 years and Johnson found herself in Granada, Spain, where she passed her summer studying wave patterns, ports, breakwaters, and coastal structures. Here in Baltimore, the civil engineering major spends much of her time in the basement of the Stieff Building studying the nature of waves. In particular, she's interested in how waves dissipate over mud, because mud is more elastic than a harder surface like sand and absorbs more of the water's energy.
Read on at WSE Magazine...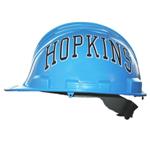 Dean's Leadership Fund: Alumni-Supported Research
Associate Professor Ben Schafer, in the Department of Civil Engineering, is using his Dean's Leadership funding to conduct research focused primarily on engineering thin-walled structures. "As natural resources become scarce, and society seeks to use a minimum of materials, engineers are designing structures that are thinwalled in their construction," Schafer explains
Read on at WSE Magazine...
2007
Professors, Graduates, Undergraduates, and High School Interns participated in the 2007 Paper Column Contest on December 4th. Contestants were allowed to design a column using no more than 6 sheets of printer paper, and scotch tape around the perimeter. Graduate student Luiz Viera won the competition, with a column that carried 176.7 lbs!

Dr. Reagan Herman joined the Civil Engineering Department on August 1, 2007 as Senior Lecturer and Assistant Research Professor.
Dr. Narutoshi Nakata joined the Civil Engineering Department on August 1, 2007 as an Assistant Professor.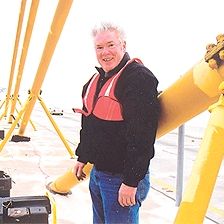 Obituary: Jack Spangler, 62, Senior Instrument Designer in Whiting School
When William Jack Spangler died at The Johns Hopkins Hospital on Sept. 16, he was 62 years old and had been affiliated with Johns Hopkins for 45 years. "Jack was truly gifted," said Nick Jones, dean of the Whiting School. "He pushed the envelope in his every endeavor." The innovative systems for measurement and control that Spangler built had applications that included particle detectors for high-energy physics experiments and the measurement of field vibrations of large cable-supported bridges. Jones, a civil engineer, worked with Spangler on numerous bridge-related research projects over the course of more than a dozen years.
Read on at JHU Gazette...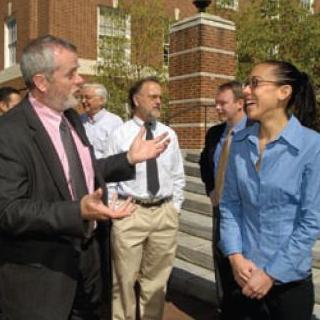 Greener Pastures for Ames Hall
On May 8, 2007 students presented a verdant vision for Ames Hall to university leaders, including Whiting School dean Nick Jones and Davis Bookhart, Johns Hopkins' manager of energy management and environmental stewardship. The "Ames Hall Green Roof Proposal" is the culmination of their semester-long senior design project sponsored jointly by the departments of Civil Engineering and Geography and Environmental Engineering (DoGEE).
Read on at WSE Magazine...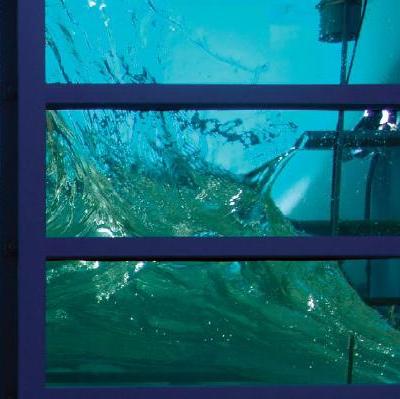 What's in the Basement?
Surf's Up! The 20,000-gallon wave tank in the basement of the Stieff Building is equipped with four hydraulic piston-actuated paddles that can create waves moving at different angles
and frequencies—generating "a fairly realistic sea state," says Tony Dalrymple, the Willard and Lillian Hackerman Professor of Civil Engineering. Sensors along the sides of the 58-footlong
tank measure wave height and velocity. Dalrymple and his team develop algorithms to predict the behavior of waves and their impact on shorelines, then use the tank to field test
their predictions—knowledge vital for preparing for hurricanes, and forecasting how beachfront construction projects will affect shoreline erosion over the long term.
The pristine waters of the tank (the only one of its design in the nation) will soon get murkier. This spring, some 7 tons of muddy clay will be deposited over the tank's bottom
as part of a five-year, multi-university study that Dalrymple will lead.
Read on at WSE Magazine...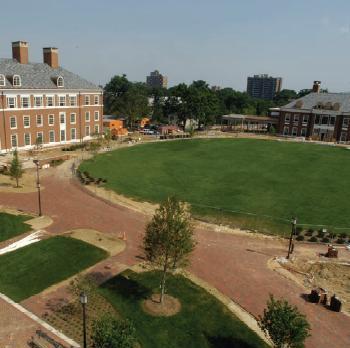 What does the future hold for building design and construction? [Addressed to Professor Benjamin Schafer]
Globalization has influenced the construction work force and the engineers who design the buildings. Immigration driven by the construction market is not just an American issue. My friends who are engineers sitting in offices in New York City are often designing buildings in Hong Kong. Just as common today is an engineer in India working on the design of a building in Chicago or Baltimore. For us here at Hopkins, this means we are beginning to train our students differently, with increased emphasis on flexibility, creativity, and, yes, in some cases, soft skills.
Read on at WSE Magazine
Rachel Sangree, Zenon Medina-Cetina, Alireza Doostan and Shan Zou received their Ph.Ds at the WSE Graduate Ceremony. Jessica Routt, Michael Barnhart and Erin Hackett received Masters Degrees in Civil Engineering.
Blair Johnson '08, Regina Shyklan '08, and Eric Deuser '08 were civil engineering students awarded the Vrendenburg Scholarship to conduct research abroad during the summer. Johnson completed research in Spain, while both Shyklan and Deuser both traveled to Switzerland.
Professor Greg Deierlein delivered the Carroll Lecture at the Engineering Society of Baltimore. He is a Professor of Civil and Environmental Engineering and the Director of the John A. Blume Earthquake Engineering Center at Stanford University. Dr. Deierlein's lecture entitled "Performance-Based Earthquake Engineering: Enabling Transparent Risk Assessment and Innovative Building Design" focused on the recent developments in performance-based earthquake engineering and examined a few applications to assess life-safety risks and to promote innovation in structural design. Included was a study of the seismic collapse safety provided by building codes and related research to guide the design of tall buildings in earthquake-prone regions.
Bentley Systems, Incorporated, a Pennsylvania-based company whose products move structural design from the draft table to the computer screen, financed a $60,000 USD renovation of the department's senior design lab.
2006
April 2006

World-renown structural engineer Dr. Leslie Robertson delivered the 2006 Carroll Lecture at the Engineering Society of Baltimore. His lecture discussed the development of the high-rise building and explored structural systems that may be appropriate for the future of tall-building design.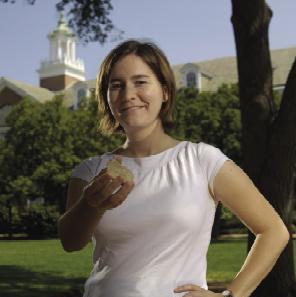 Katherine Acton: A Composition of Many Talents
Classical piano, creative writing, and now functionally graded materials. For doctoral student Katherine Acton, life has many layers.
Read on at WSE Magazine...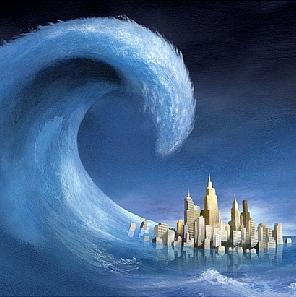 Force of Nature:
When Robert Anthony Dalrymple watches the surf, he sees the approaching swell, the foaming curl, the cascade of water, the sea sliding up the beach toward his feet. He's no less mesmerized than the rest of us. But where most people look at plunging surf and see chaos, he sees structure, eddies and vortices, wave forms and fluid mechanics. "I see things I can predict," he says, "and things I can't predict." He smiles and adds, "I can be very boring at the beach. My wife doesn't enjoy going with me anymore. She makes me go to the mountains now on vacation."
Read on at JHU Magazine...
Professor Lian Shen recieved a 2006 Office of Naval Research (ONR) Young Investigator Award. His proposal, "Multiscale Deterministic Wave Modeling with Wind Input and Wave Breaking Dissipation," was the only research proposal awarded funding in the ONR's Ocean Battle Sensing department this year.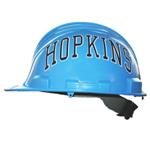 Two Professors Elected to the National Academy of Engineering
Two Johns Hopkins faculty members — one with expertise in coastal engineering and the other in speech recognition technology — have been elected to the prestigious National Academy of Engineering.
Read on at the JHU Gazette...
2005
Professor Benjamin Schafer was appointed the Associate Editor of the ASCE Journal of Structural Engineering.

What Are the Chances That a New Composite Building Material Will Crumble?
We may look at a building and perceive solid slabs of concrete, but Lori Graham-Brady is seeing something else. She's weighing the possibility of it cracking and failing. Just how many of our modern buildings possess this element of risk? According to the associate professor in the Whiting School's Department of Civil Engineering, all of them do, though most thankfully in very small degrees. "Everybody knows that risk is there when you build a building,"
Read on at the WSE Magazine...
Assistant Professor James K. Guest joined the Johns Hopkins Civil Engineering Department. He previously had obtained his Ph.D. from Princeton and had been a lecturer there.
Associate Professor Lori Graham-Brady was awarded the Junior Research Prize from the International Association of Structural Safety and Reliability. She was presented her award at the 9th Internationl Conference on Structural Safety and Reliability (ICOSSAR), held in Rome.

X. Frank Xu selected as finalist for Melosh Competition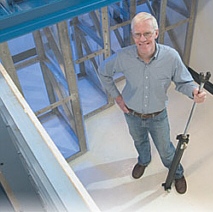 Post-Tsunami Thailand Yields Lessons for Coastal Construction Engineering: Experts See How Buildings and Materials Fared Against Walls of Water
An inspection of Thai villages and ports struck by tsunami waves has uncovered some engineering lessons that might reduce casualties and destruction in future oceanic upheavals, a Johns Hopkins researcher said.
Read on at JHU News...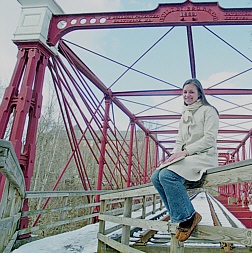 Bridge Engineering and Art
To most people, a bridge is simply an assembly that allows travelers to move safely across a river or some other expanse. But to senior Christina Terpeluk, a bridge can be a piece of structural art. To qualify, it must be a work of elegance and efficiency that showcases its designer's engineering goals in a way that appeals to the eye. Supported by a PURA, Terpeluk has spent months studying 19th-century American iron truss bridges, trying to determine whether they fit the definition of structural art, a concept championed by David P. Billington, a civil engineering scholar at Princeton. For her project, Terpeluk has conducted detailed studies of three types of truss bridges built more than a century ago.
Read on at the JHU Gazette...
2004
Professor Hugh Ellis is instated as the Department Chair for the Department of Civil Engineering, succeeding Professor Robert Dalrymple.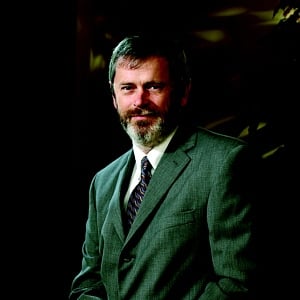 Nick Jones Named as New Dean
Jones first arrived here in 1986 as a brand-new Ph.D., rising through the ranks from assistant professor to professor and then chair of the Department of Civil Engineering, a position he left in 2002."Having spent 16 years at Hopkins, it has been a big part of my professional life," Jones said last week. "After I left, I would come back to visit, and I realized even more clearly what a special place this institution is."
More information...

Civil Engineering Senior Design Students win $25,000 for their senior design ideas.

Christina Terpeluk '05 was awarded a Vredenburg Scholarship to study abroad.
Senior Liakos Ariston's Isler inspired thin-walled ice structures
January 2004

Ryan Hanley '04 has been awarded a George J. Mitchell Scholarship for 2004-2005. The Mitchell Scholarships allow Americans to pursue one year of post-graduate study in any discipline offered at institutions of higher learning in Ireland and Northern Ireland. The George J. Mitchell Scholarships, named in honor of the former Senator's pivotal contribution to the Northern Ireland peace process, are intended to familiarize and engage the next generation of America's leaders with the island of Ireland. Ryan plans to spend a year of study at Trinity College, Dublin. More Information...
2003
The Department's undergraduate program has been ranked 17th by U.S. News and World Report in its annual educational rankings of undergraduate programs in schools with Ph.D. programs. This is the fourth year the Department has been ranked among the top 25, moving up at least 2 places each year since 2001.
A new design method for cold-formed steel structures, authored by Assistant Professor Ben Schafer, has recently been adopted by the American Iron and Steel Institute Committee on Specifications for Cold-formed Steel Structures. The method is based on Professor Schafer's research in combining numerical methods with traditional design procedures in order to provide more flexible and robust design rules for thin-walled steel structures. Research related to this new method recently received the American Society of Civil Engineer's (ASCE) Collingwood Prize, a society wide award for an outstanding paper authored by an ASCE member under 35. In addition, a presentation of the new method given at the annual ASCE Structural Engineering Institute (SEI) congress in Seattle tied for best presentation at the congress. Articles discussing the numerical method which supports the new design process have appeared in Civil Engineering and Mechanical Engineering magazines. Professor Schafer will receive his Collingwod Prize, and reprise his ASCE-SEI congress presentation at the upcoming ASCE National convention in November. For more information go to Professor Schafer's web site.
August 2003
Steve Kelly '98, '99 was recently profiled as part of the ASCE "New Faces of Civil Engineering." This website highlights the achievements of outstanding young civil engineers. See the current New Faces of Civil Engineering at the ASCE website.
Professor Benjamin Schafer has been awarded the 2003 Collingwood Prize by the American Society of Civil Engineers for his paper Local, Distortional, and Euler Buckling of Thin-Walled Columns.
The Department is pleased to announce that Dr. Lian Shen will be joining the faculty as Assistant Professor in January, 2004. Dr. Shen comes to Hopkins from M.I.T., where is is currently a Research Scientist in their Department of Ocean Engineering. Dr. Shen's research interests include ocean engineering, coastal processes, and environmental fluid flows. He received his B.S. degree from the University of Science and Technology (Hefei, China) and his Doctor of Science degree from M.I.T.
Allan Olson '06 is a recipient of a Summer Provost's Undergraduate Research Award. The title of Alan's project is "Network Modeling of Polycrystals."

Sam Phillips '04 , a junior in Civil Engineering, is part of a group of seven Hopkins students who traveled to NASA headquarters in Houston to conduct experiments studying how liquids mix on a surface when gravity is not a factor. See the article in the Hopkins Gazette on-line.